Playtech Blackjack - The Ultimate Software Suite for Blackjack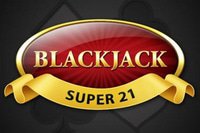 The Playtech Blackjack software suite offers many variations of this popular game that will keep Blackjack enthusiasts real money or not, enthralled for hours on end. Playtech blackjack games where cards are drawn all have a mechanism inbuilt where if a player doesn't go bust after being dealt seven cards he gets to win the hand right off. This they call Seven Card Charlie.
There are some pretty cool additional features that they make available to the player to enhance his gaming experience. For instance, when playing Playtech Blackjack, you can change the dealing speed, the card sizes can be changed, and animations can easily be switched off to speed up the games. You also have a series of useful software pop-ups that act as warnings to clarify your course of action, quite handy I think you'll agree as they ask you if you wish to stay with a certain hand as opposed to hitting or splitting.
All the Blackjack games within the suite have a $100 ceiling for each bet, with a $2 starting minimum to get you off and running. Now let's take a quick look at some of these various games inside the Playtech software suite, and what you are likely to find.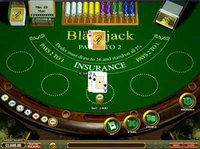 For those that fancy their hand at Pontoon You have the opportunity to try your luck at this Australian version where the dealers cards are placed face down. You may wish to try their standard Blackjack game called, Perfect Pair Blackjack with an optional side bet where you can play up to 5 hands. How about a Blackjack game where all you have to do is place your bet on the outcome of just the dealers hand with you not even being dealt a card? Take a look at their Lucky Blackjack, this one will be right up your alley then.
There are many other games in the suite that you can play including Blackjack Surrender where a player can surrender his hand and fold, settling just half of his initial bet with the dealer. There is Blackjack Switch where two hands are dealt to the player where cards can be switched between the two before each hand is played, and still even more in this exciting Pandoras box for the Blackjack player. Pick your game and enjoy.